Community organizing and meetup.com
The article published on January 13, 2020 and updated on January 27.2020
Presentation
Here is the recording of a presentation of this blog post at a GTALUG meeting on January 14, 2020.
Direct link to the video in case youtube embedding is disabled -- https://www.youtube.com/watch?v=0I880MBDAXM
Intro
I'm a board member of GTALUG (Greater Toronto Area Linux Users Group). We hold monthly meetings and we are always looking to invite people to our events. Around Toronto meetup.com has been a de-facto tool to manage group membership for regular tech events. Last year we decided to sign up for meetup.com and see if we can get new people to show up.
Metrics
Our primary goal in determining the success or failure is two numbers: the number of people who show up at a meeting and the number of people who become members.
The structure of our organization is such that our meetings are free to attend, however we have some expenses such as running our website and participating in linux-related events in our area. We cover these expenses with our membership fee, that gives a right to vote for board members & president, the fee is $20 CAD.
Since the 6-month meetup.com organizer subscription would cost us $133 CAD we would expect to gain 13 members a year to break even.
Attendance Data
Unfortunately our attendance numbers are sometimes patchy and the experiment began with a rocky start. We have to cancel the first scheduled meeting due to a snowstorm.
The first column of the following table shows the number of people that replied 'yes' to attend our meetup, the total number of people that showed up at our meeting, and the number of people who showed up at a meeting on the same month in 2018 as a reference.
Attendance summary

| | | | |
| --- | --- | --- | --- |
| Month | Meetup | att 2019 | att 2018 |
| Mar | 22 | 30 | 18 |
| Apr | 12 | 24 | 17 |
| May | 11 | 16 | 20 |
| Jun | 11 | 21 | 13 |
| Jul | 14 | 24 | 17 |
| Aug | 11 | 23 | 13 |
| Sep | 7 | 13 | 22 |
| Oct | 25 | n/a | 21 |
| Nov | 10 | n/a | 18 |
| Dec | 8 | 16 | 16 |
Here is this data as a graph.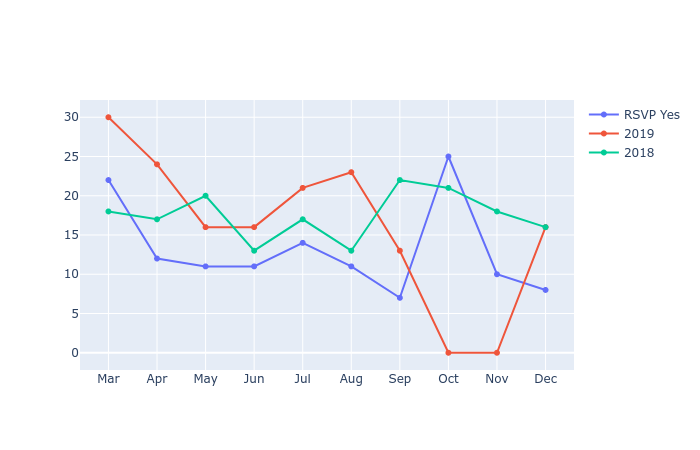 We can't completely rely on the numbers here, because some meetings bring out more people than others, but we did get a significant bump in attendance during summer months.
Unfortunately our membership didn't grow as expected. The following table sows 2018/2019 membership data.
Membership

| | |
| --- | --- |
| 2019 | 2018 |
| 12 | 15 |
I don't know how realistic it is to double our group membership in a year, but we are nowhere close to breaking even. Some numbers were more optimistic, as of this writing we had 211 members of our meetup group.
Maybe if we were given some time and promoted our membership option more, the greater number of people would come to our meeting and eventually become paid members. Unfortunately we are nowhere near the numbers that we expected to have in order to justify this expense.
Disengaging
As we were slowly heading towards our decision to disengage from meetup.com, when it has been announced that they are rolling out a different pricing model, charging $2 USD per person attending the event. From our perspective, for the same period in 2019 that would have cost us $346.5 USD as opposed to $266 CAD. In case we were succeeding in increasing the attendance, we would not be able to afford it.
There's also another question with non-commercial non-profit groups -- the money spent on simply paying for the people to show up could be spent on things that bring value for the people who already attend.
Since we've been members of the meetup.com group for a year, I wanted to extract emails of everyone who signed up for a group so we could contact the people to let them know that we're discontinuing our group. Meetup.com lets you download a csv file with the membership summary however the file doesn't contain email addresses.
At first I considered this to be an attempt to lock us into their service, but on the second thought, I'm not sure how ethical it is to harvest email addresses. meetup.com gives us an alternative to notify every member of the group, the alternative I'm going to use.
I will write a message on January 15 saying that this group will close down in a week and if any members of the group want to keep in touch they could either sign up to our announce mailing list, or gettogether.
Alternatives
While managing our meetup.com page I have recognized the value of software that lets people interested in going to tech meetings to know that our group exists and we are organizing events. This seems like a least bad way of advertising.
However, all the commercial platforms will attempt to lock in and extract value from us. The major feature of any software used in community-organizing is the people who show up, not so much the software that brings them here, and it is really up to us, as members of communities, to choose what lets our community, and communities around us to thrive.
gettogether.community
In May 2019 created an event page on https://gettogether.community website and have been posting events there. We have about 10 people there as members of our group, compared to 200+ on meetup, and this is the biggest drawback of this event management system.
This is also an open-source project, built with Python 3 and Django, it aims to be feature-competitive with Meetup.com, federated and cost-effective hosting for FOSS communities.
Federation feature hasn't been implemented yet, but other than that, using the site lets me do most of the things I need from Meetup.com, one feature I want to mention in particular -- private groups & events. I wish there was an ability to ask users joining community a question or agree to follow a code of conduct.
I really like the absence of spammy notifications. I find it cute that I would get an email a day before the event letting me know that there's an upcoming event. There are no communications unrelated to the events I RSVP'd.
Honorable mentions
Other open-source alternatives to meetup: