Tweaking the first print layer
Intro
This is a followup to my previous post Fixing the first layer when usual tweaks don't work. Where I describe issue of getting poor first layer print quality and the test I use check fixes I come up with.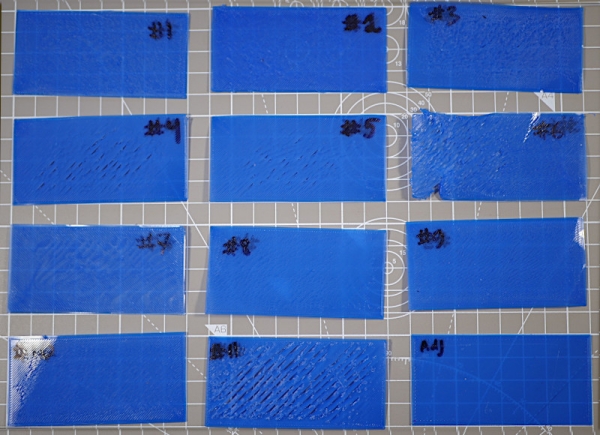 I started working on this article first, however at the time I haven't found a solution for the problem I was trying to fix I sat on it for a while. Doing work described here, helped me come to a conclusion that something entirely different is wrong with my printer. I hope this could serve as a reference to someone who is looking at a print.
Test prints
I started off with the existing settings I had for E3D PLA filament and made some test prints to confirm the problem. I'm only mentioning settings for the first layer because that's the settings being tested.
Conclusions
In my case there is no easy fix and a random article on the internet about how to fix the first layer on your printer might not be considering my particular case, but these articles are useful as an example of different sample problems.
Other things to try to fix the issue:
The bed is bent in the middle (to many nozzle crashed into it one too many times. INstall a new bed and fix probe that it no longer crashes into bed because I didn't put any springs between heated bed to y-axis carrier. That made the bed more susceptible to deformation.
Slow down probing speed and increase number of probing points from 4 to 5. That might help with some inaccuracies. This turned out to be thing that fixed the issue.
There also might be an issue with nozzle clogging and bubbling PLA.
Experiment with creating and loading custom bed mesh. But in this case I will still have to deal with the problem of having really uneven bottom surface of a part.